Hydraulic Double Drum Vibratory Roller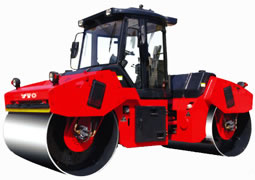 LTC208 hydraulic double drum vibratory roller is manufactured with international advanced technology and by the use of imported components. Adopting CUMMINS (USA) origin engine, this road roller can meet Euro II / Tire II emission standard, and has been certified by authoritative organizations (The United Kingdom Vehicle Approval Authority/ United States Environmental Protection Agency). This road roller is a double drum tandem vibratory roller primarily used for the compaction of bituminous concrete, sand gravel mixtures and RCC material. It is universal compaction equipment for highway, municipal road, park area and industrial ground etc. Our hydraulic double drum vibratory roller possesses high compaction capacity and high production rate.

The LTC208 hydraulic double drum vibratory roller has the following features:
1. USA original CUMMINS engine;
2. Full hydraulic, tandem type equal size twin-drum;
3. Double frequency, double vibration system;
4. Hydrostatic center articulated steering, patented crab mechanism;
5. Steel sealed red color painted cabin with air conditioner, comfortable and spacious, the flexible steering seat facilitates the operation.
6. The driver's cabin can be turned on one side as a whole to facilitate maintenance.
7. Fork-type frame, good hold-down property.
8. Hydraulic pump and vibrating motors are made by American manufacturer SAUER or German manufacturer REXROTH.
9. Naturally aspirated water cooled diesel engine equipped with selected 12 or 24v heavy duty battery, starter and alternator.
10. Hydrostatic service brake and parking brake.
11. Hydrostatic and individual drum vibration control drive system. Drive motor is fitted on both drum.
Control System
Hydraulic controlled power steering wheel, parking brake switch, engine start/run/stop switch, water spray on/off switch, water spray control valve, machine direction /speed control lever with neutral start switch.
Water sprinkler system:
Gravity feed system/ pressurized system (with adjustable nozzle opening) controlled by switch at operators position.
Main Accessories
Main accessories for the LTC208 hydraulic double drum vibratory roller include: water temperature meter, hour meter, fuel indicator, battery charger indicator, oil pressure gauge, oil temperature gauge, speedometer, hydraulic oil meter, engine coolant gauge, air and hydraulic filter indicator lights, electric fan, steering light, operating light, steering light switch, fan switch, front light switch, rear light switch, start switch, cabin light, instrument light, reverse mirror, single lever control for travel and vibrator, weather protected starting and stopping vibrator, control and warning indicator lights, emergency stop button, vibration cutoff, rear drum, ROPS.
Technical Parameters of the Hydraulic Double Drum Vibratory Roller
| | | |
| --- | --- | --- |
| MODEL  | | LTC208 |
| Operating mass  | kg | 8000 |
| Drum diameter | mm | 1150 |
| Drum width   | mm | 1730 |
| Drum rim thickness | mm | 20 |
| Transverse swing angle of the vibrating wheel        | ° | ±8 |
| Static linear load | Kg/cm | 25 |
| Transmission | | hydrostatic drive and double drum vibration control |
| Travel speed(forward/reverse) | Km/h | 10-14 |
| Working speed(forward/reverse) | Km/h | 0-6 |
| Vibration amplitude | mm | |
| High ampl. | | 0.67 |
| Low ampl. | | 0.34 |
| Centrifugal force(each drum) | KN | |
| High ampl. | | 70 |
| Low ampl. | | 35 |
| Engine model | | B3.9 |
| Brand | | USA Origin Cummins |
| Displacement Volum | C.C | 3.9L |
| Rated power/rotational speed | Kw/r/min | 85.4kw/2200r/min |
| Max torque/rotational speed | N.m/rpm | 447N.m@1500rpm |
| Electrical system | | 24V heavy duty battery |
| Grade ability | % | 30 |
| Turning radius | mm | 6000 |
| Overall dimension(L×W×H) | mm | 4558×1840×2974 |
| Wheelbase | mm | 3217 |
| Min Ground clearance | mm | 270 |
| Water tank capacity | L | 2×450 |
| Fuel tank capacity | L | 134 |
| Hydraulic tank capacity | L | 70 |
| Cabin                              | | Steel sealed cabin over driving seat |
| Color of cabin | | Red |
Performance Curve of USA Original Cummins Engine B3.9
Main Features of USA Original Cummins Engine B3.9
1. Emission/Performance Improvement Measures
1. Air to air After cooler
Intake air temperature:60deg / Lower Nox,better BSFC
2. Higher turbo efficency
HX35 7735AX <--- 8864AX
3. High flow nozzle
Flow coefficient : 0.82 / Lower smoke,better BSFC
4. Nozzle protrusion
5. Injection timing strategy
13deg BTDC <--- 20deg BTDC
6. Piston
IPA1 bowl <-- ELITE bowl
2. Noise Reduction Measures
1. Cover, tappet
Isolated ADC cover with noise panel of tappet cover
Also good for resolving oil leakage problem
2. Case, gear
FC ← ADC
Increasing case stiffness / Reducing back lush on running
3. Gear train
/Reducing gear backlash
4. Injection pump bracket
Changing the location of BKT/Reducing injection pump vibration
5. Standing wave between inj. pump and C/B
Space rubber/No space for standing wave
6. Retarded injection timing
/Reducing dp/dθ BTDC 13deg←20deg (differential firing pressure)
7. Damper of injection pump
Injection pump gear with damper/Reducing deferential speed of I/P gear
Other Products