Wheeled Tractor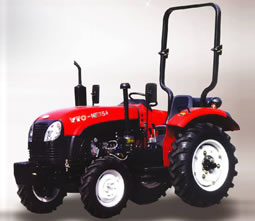 30-40HP Wheeled Tractor
The 30-40HP wheeled tractor is designed with direct injection diesel engine, characterizing large torque and vigorous power. Besides, this product has the following features.
1. There is a sliding sleeve matched for the transmission and power output shaft of the farm tractor. Besides the gear shift, the shuttle shift and creeper gear are optional.
2. The wet double disc brake device makes for outstanding brake performance and high safety of the agrimotor.

3. Provided with dual clutch and transmission device, the 30-40HP wheeled tractor has higher working efficiency.
4. Our farm equipment is installed with double speed PTO shaft, and two hydraulic outlets. So it can be matched with many farm implements.
5. The compact structure, small turning radius and flexible turning make it suitable for the application on small site.
6. For intelligent operation, the 7.10mm high-clearance tractor is available from us, as well.
Technical Parameters
Model
YTO-ME304
YTO-ME354
YTO-ME300
YTO-ME350
YTO-ME350H
YTO-ME400H
Tractor
Drive Type
4×4
4×2
4×2
Overall Dimensions (L×W×H) (mm)
3575×1485×
2632
3595×1485×
2677
3520×1485×
2632
3540×1485×
2677
3595×1700×
2740
3600×1700×
2740
Wheel Base (mm )
1745
1760
1690
1705
1730
1790
Min. Ground Clearance (mm)
235
280
338
380
710
Min. Operating Mass (kg)(ROPS)
1655
1745
1445
1535
1700
1650
Tyre Size (F/R)
6.50-16/11.2-24
7.50-16/11.2-28
5.50-16/11.2-24
5.50-16/ 11.2-28
6.0-16/12.4-28
Wheel Track (F/R) (mm)
1200/1100-1400
1100-1400/1100-1400
1100-1400/ 1100-1400
Gear Shift (F/R)
8/4
Speed Range(km/h) (F/R)
2.21-28.93/3.27-
9.99
2.25-29.53/3.34-
10.20
2.21-28.93/3.27-
9.99
2.25-29.53/
3.34- 10.20
2.09-27.38/
3.10- 9.45
2.27-29.86/ 3.38-
10.31
Lifting Force (610mm) (KN)
≥5.0
≥5.8
≥5.0
≥5.8
≥5.8
≥6.6
Lifting Force (Link Joint)(KN)
7.7
8.5
7.7
8.5
-
-
Diesel Engine
Model
ZN390T
SL3100ABT-2
ZN390T
SL3100ABT-2
SL3100ABT-2
C490BT-7
Type
3-cylinder, in-line, vertical, water cooled, four stroke
4-cylinder, in-line, vertical, water cooled, four stroke
Displacement (L)
1.81
2.76
1.81
2.76
2.76
2.54
Rated Power/ Rotating Speed (kW/rpm)
22.1/2350
25.7/2200
22.1/2350
25.7/2200
25.7/2200
29.4/2300
Other Products